Just about every region of the country has some amazing fall color drives that people go way out of their way for. Around here, we are known for the "Gold Rush" which is the changing aspen trees in the mountains. They turn a bright gold when at peak and makes for just some amazing scenery. You just cannot beat a mountainside of gold aspens mixed with the evergreen trees and a crystal clear deep blue sky as a backdrop.
There's only a small window of typically 2-3 weeks to see the aspens at their peak. In this part of the state, the central mountains, they don't hit peak until next weekend. My mother in law is only in town until Thursday the 22nd so this was her final weekend and the final opportunity for her to see what our "Gold Rush" is all about.
So we did our drive today and here are some of the better pics we got.
We headed down Highway 285 southwest of the city and our destination was Boreas Pass, which is south of Breckenridge. On the way, we went over Kenosha Pass where we stopped for lunch:
As you can see, many are not quite at peak. Next weekend, that whole hillside will be pure gold.
This is starting the drive up Boreas Pass Road and the aspens are a little bit further along:
Gotta have a family pic in there. This one is a Christmas card qualifier:
Boreas Pass Road used to be a mainline railroad. So for the most part it follows the old railroad grade; meaning no steep hills and very broad curves. At the top of the pass, they still have some remaining evidence that this once was an active line. Here are two of my boys in front of the box car that still remains on a 50 foot section of narrow gauge track:
Overview of the top of Boreas Pass: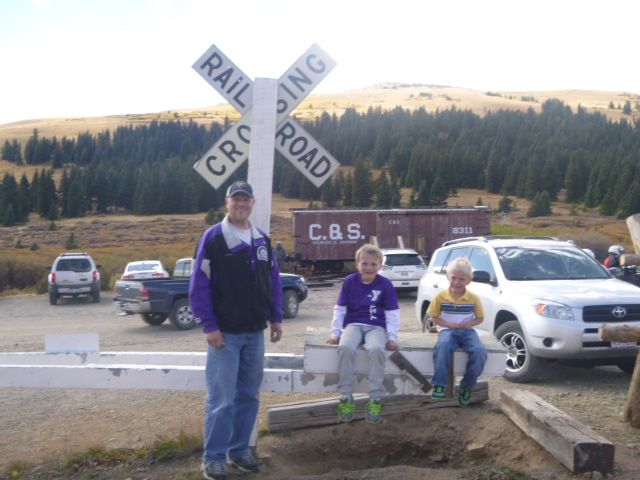 This is one of just three buildings from the original railroad town:
This is a section house that was once lived in by railroad maintenance workers. Now, it is owned by the 10th Mountain Division and is used as a ski hut for backcountry skiers who go on those really long winter excursions.
We are now heading down the other side toward Breckenridge. Another picture stop was at the historic Baker Water Tank where the old steam engines used to stop and fill up with water:
Even though it wasn't officially "at-peak-weekend" we still got a great show!
And finally, Breckenridge Ski Resort comes into view:
There are numerous drives and train excursions around the state that take you into areas where the aspens just put on one hell of a show. Boreas Pass is one of the better drives in the state.
The window is small! So if you're ever in these parts at this time of year, be sure to reserve a day to check out the colors. Very well worth it!