Great to be back posting again! I'll be sure to attend the meeting. I kind of poked my head in on that one, but making these PETs takes time, plus I don't enjoy posting from my phone as much as I do from my home computer. Way easier from home (especially with a PET).
So we just returned from KCDave's fair city a couple nights ago after spending the weekend there. After 23 years of just passing through on the way to and from St. Louis, we decided to actually visit and see what's there.
I gotta say we were pleasantly surprised with KC! Although, and Dave might remember this, one of my very first posts on SCIII back in 1999 was about the absolutely horrid street system in and around downtown KC. That take has not and will not change especially after this trip! It's fairly easy to get into and even through downtown KC, as long as you're in the only lane that will get you through. But, getting out? That's a completely different story. An off-ramp that gets you into downtown will not have a corresponding on-ramp to go back the other direction. There are no signs along the downtown streets telling you where to go, there are practically no onramps to the freeway you actually want to use, and if you actually do find an on-ramp to the correct freeway, you're miles out of the way! Sucks we can't even get MoDOT to even put up pictures or at least a cheap sign with an arrow saying "To I-70 West ----->"
So enough about driving around downtown KC. On to the PET.
We arrived last Thursday evening and checked into our hotel, which was on the far western side of the KC Metro Area...they call it the Kansas side, or KCK: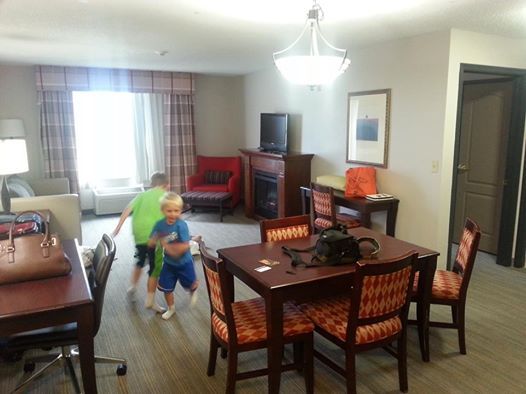 These are my boys blowing off some energy after the 9 hour ride in the car.
It was the Country Inn and Suites and it was practically the only hotel that was A) not sold out and B) Able to score this room for less than what most hotels were charging for a standard room closer into the city! I scored this large 1-bedroom suite using Club Carlson Reward Points so it got a huge discount on the room.
This hotel is near a fairly trendy area called Legends at Village West. Basically it's an entertainment district and among all the restaurants is a theme restaurant called T-Rex Cafe.
The only other location is in Orlando near the Disney resort. How appropriate. Of all places to have a second location, they chose Kansas City, KS?? Alright then.
My youngest was still mesmerized. It actually is a pretty cool place...just a bit on the pricier side!
But, where there is pricier food, the quality is typically higher and that is the case here. I ordered the grilled chicken sando with spinach artichoke and mozzarella cheese: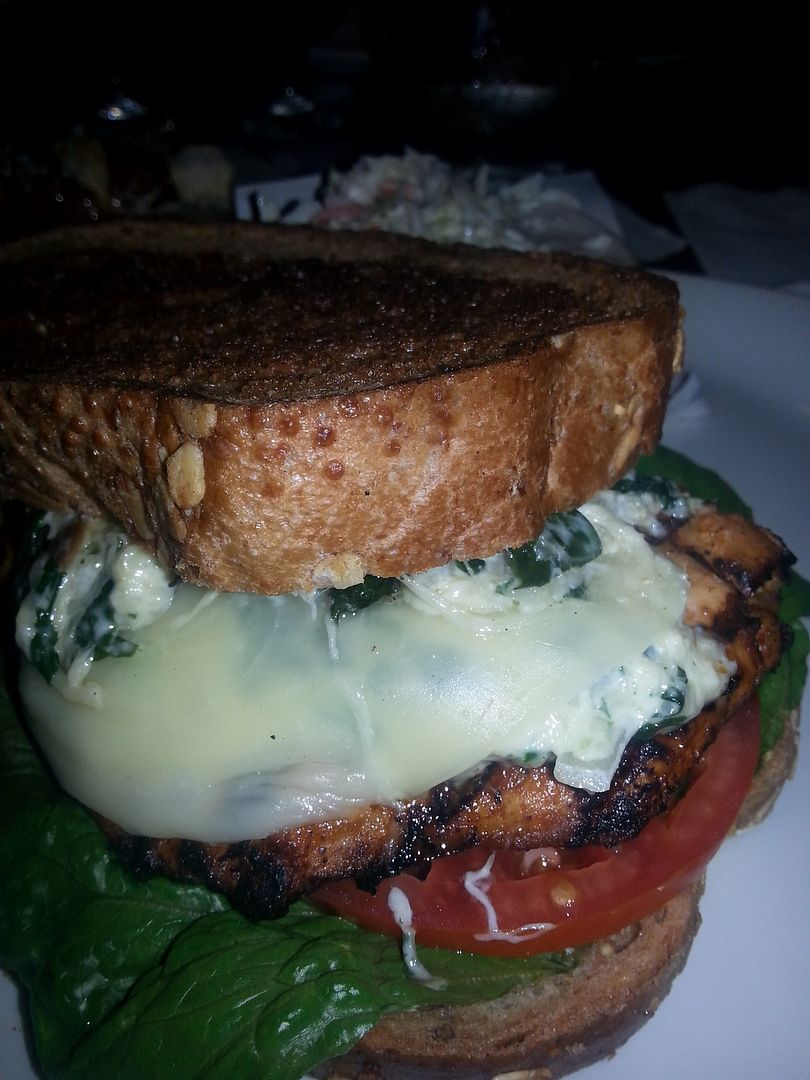 As I've done before, I still have to stay true to whatever food month it is no matter where we are!
Here is the rest of their menu in PDF:
http://www.trexcafe.com/pdf/MenuKc.pdf
(I guess this is an outdated version as the sando I had is not in there)
There is also a baseball stadium right next to the hotel called Community America Ballpark. It houses a minor league team called the Kansas City T-Bones. They are not even affiliated with MLB.
One of the perks of attending a game there is they have a 10 minute long fireworks display after each win. So, 10:45pm Thursday night, this scared the absolute shit out of us:
We were already in bed and awakened by this. Somehow the boys slept through this one and the other two that happened about the same time two of the next three nights! I'm curious as to how many complaints the hotel, or the T-Bones get from guests at the hotel, about fireworks being shot off so late at night! They shot them off from the parking lot of the Kansas Speedway.
Friday we headed into the city and wanted to explore the famous Union Station and the area around it: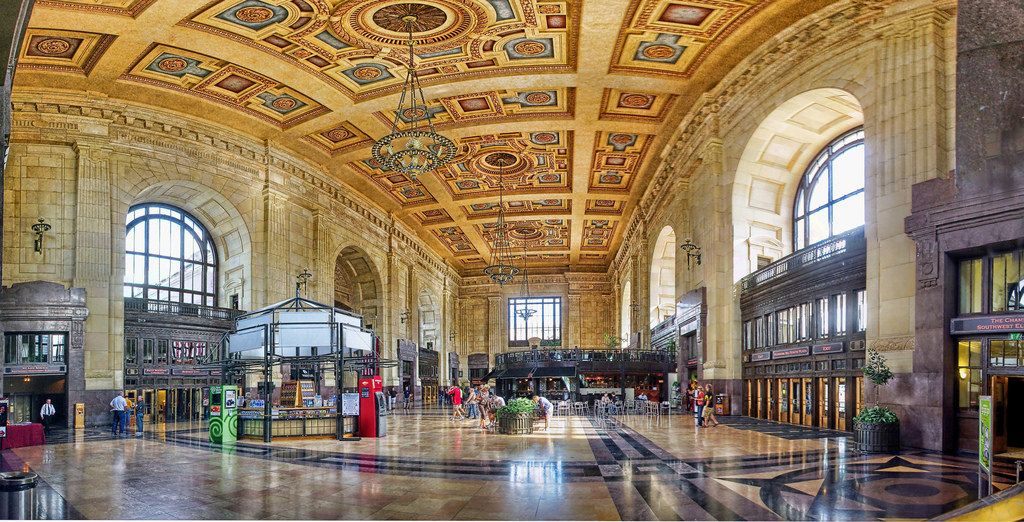 Really a nice building!
One section has a rather large model train exhibit with many layouts:
Rack the KC Royals garb and a knee-grow league beer koozie on this one:
My 4 year old loves trains:
Rack them for paying tribute to railroading in SW Colorado.
This unique vehicle is called a Galloping Goose. It was used to transport mostly mail around that region back in the early 1900s. Most of the Galloping Geese were made of a Pierce-Arrow car. One of them is still used at the Colorado Railroad Museum in Golden.
Just outside you can see real trains passing below you: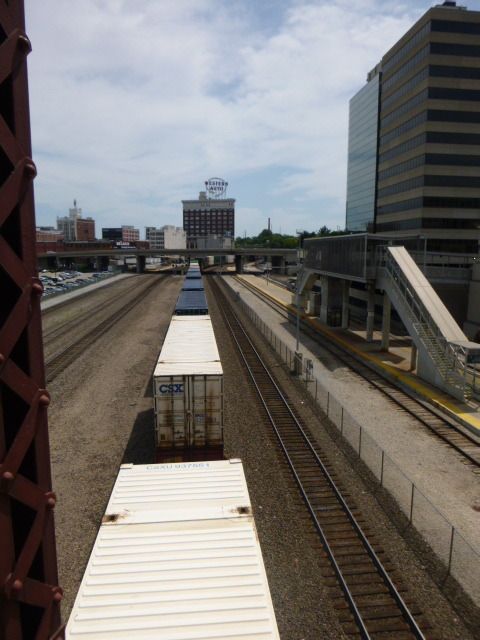 This was just one of like 5-6 trains we saw pass by in a matter of 15 minutes! Definitely a busy area for trains!
Alright so both my boys like watching trains: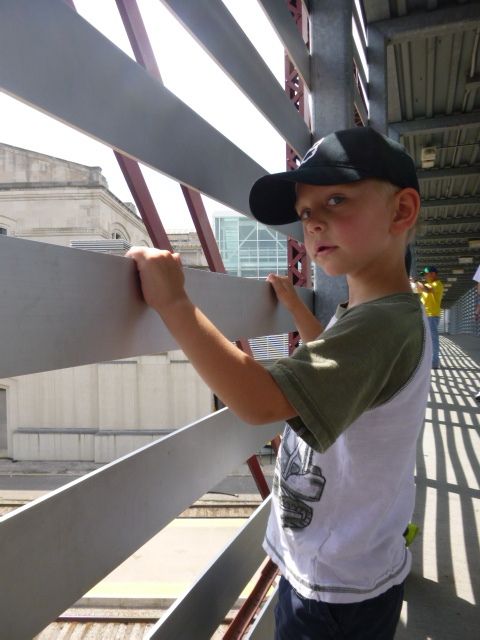 We had lunch a few blocks away at another unique restaurant called Fritz's:
Yep, you guessed it, it's a train-themed restaurant.
You place your order by phone and then the food is delivered by train:
And is then lowered to your table.
Food was absolute garbage. There is a reason why it is so damn cheap! Let's put it this way. Most of you would rather eat at Wendy's. It is not even worthy of a pic, much less a quality addition to a PET.
KC has over 200 fountains and they are among what the city is known for. We only saw the main one at Crown Center: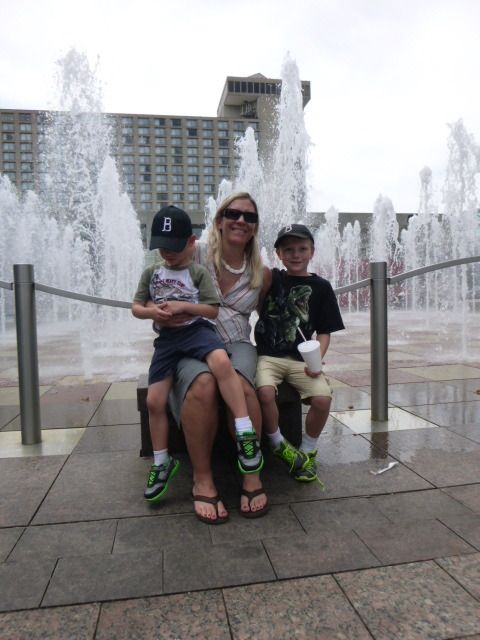 Back to Union Station we go to see a presentation in the Planetarium. It was basically about the night sky over KC at this time of year and it was geared toward kids. Here are my boys ready to watch the show from the bean bags:
That actually seemed like a much more comfortable option!
I got a recommendation from KCdave about a local pizza place we should check out since it was our plan to have pizza that night. He recommended Minsky's to us. The closest one was about 15 minutes away just off I-435. Of course, our hotel was "just barely" outside their delivery area so off to Minsky's I went.
Kind of glad we just didn't eat there. It was rather packed inside!
But it was damn good pizza! I can see why it's one of the best, if not THE best, in KC. We had the large original crust with sausage and pepperoni: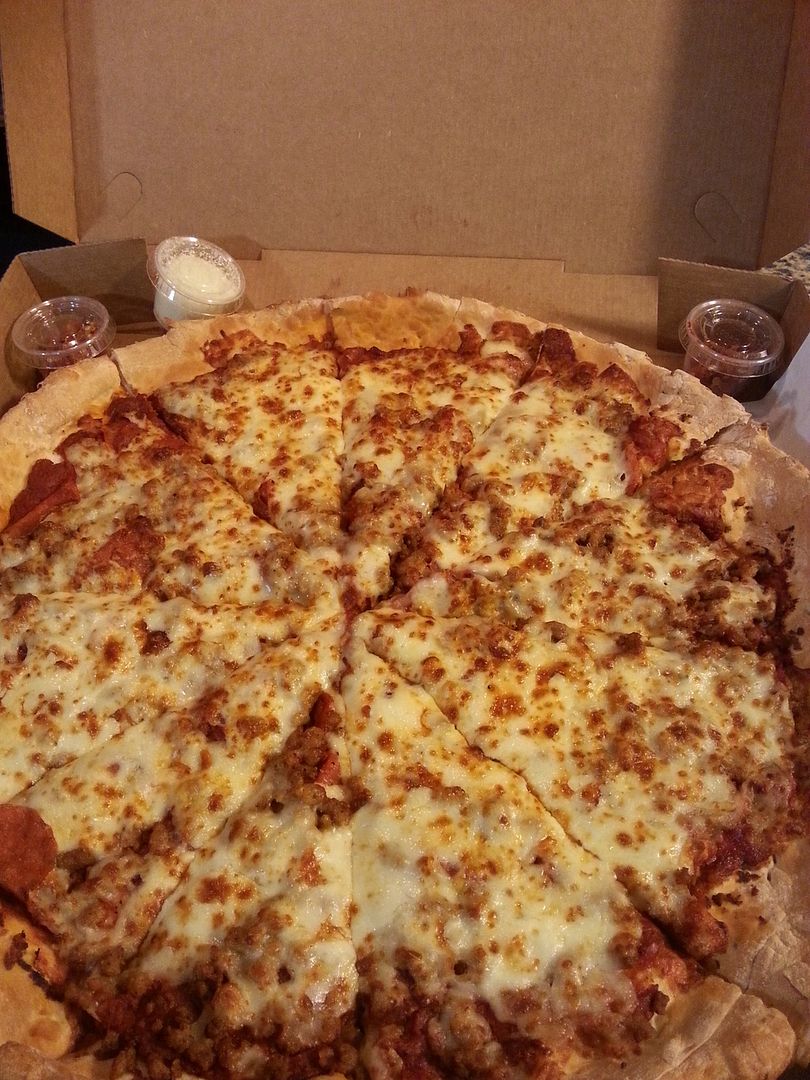 Wife only wanted a salad and the boys typically only eat 1, maybe 2, slices of pizza anyway and this one was quite thick. I had about half of it and we ended up saving a couple slices for later. Minsky's will definitely be ordered again next time we go! Thank you for the recommendation, Dave!
Saturday was an all-day event for us. Leading up to that point we had no idea exactly what all-day event it would be whether it would be Schlitterbahn water park (just 5 minutes away, but $60/person to get in) or World's of Fun amusement park 30 minutes away and about $40/person average cost if purchased online. So we ended up at World's of Fun.
Wife is coming up on 30 weeks pregnant so she can't ride much of anything, plus we have a 4 year old who isn't tall enough for much of anything either. My 7 year old is able to ride anything in the park since he is 51" tall. Of course, we would have to do some family rides first so on to the carousel we went: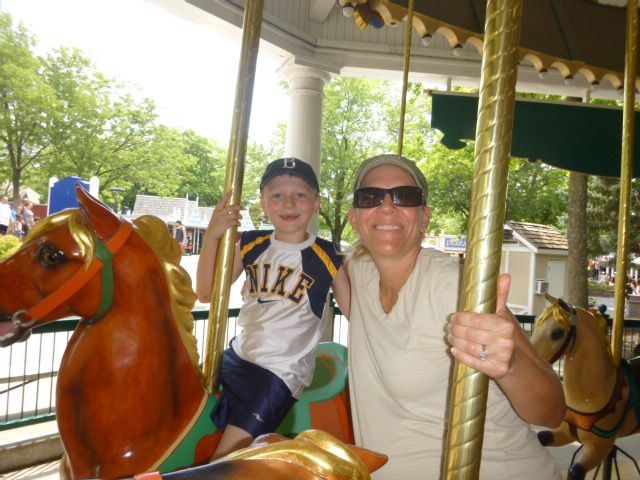 My 4 year old didn't want to get on a horse for some reason: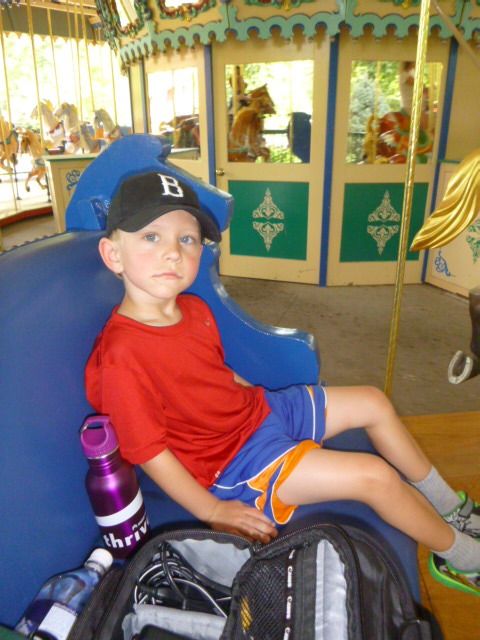 My 7 year old's first rollercoaster ever! He and I rode the Timberwolf which is a wooden coaster:
He loved it so much he felt ready to get on the signature coaster at the park:
It's quite the ride!
He also experienced his first forward/backward and upside-down coaster called the Boomerang:
So that was Saturday. Sunday we met KCDave and his wife at Kauffman Stadium to enjoy the Royals v Astros game. Thank you again, Dave, for getting us these seats!
First pitch:
Dave already posted a pic of us, but here's another one: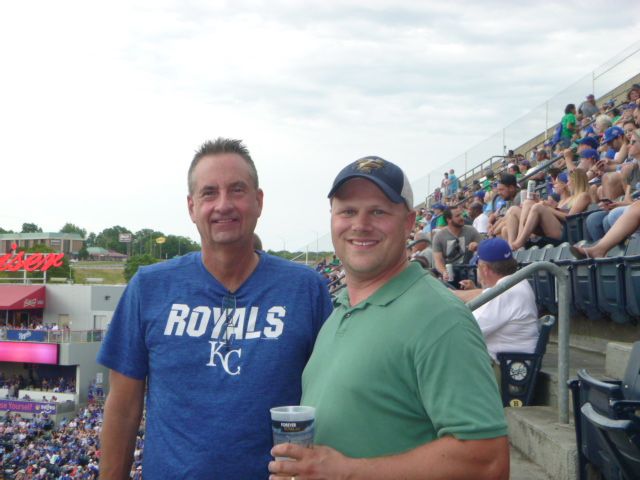 It was great spending the afternoon at the yard with him and his wife! I have now met three other trolls, one of which is still active on the board. 'Sup JSC?
The Royals won it...
And they are still NOT one of my teams! I'm a Cardinals fan for crying out loud! Why would I want to add the Royals? That would be just as bad as being a Cubs fan!
6-1 was the final score.
I had mentioned to Dave that we were going to meet some of my family who lives in Overland Park at KC Joes for some authentic KC BBQ. Well, we were on our way there and they called me to say that KC Joes, the original one in a gas station, is closed on Sundays! 'Sup CFA? They didn't feel like going 15 miles out of the way for the other one that may or may not have been open. So we ended up meeting at another BBQ joint that is just off I-35 called Rosedale BBQ:
I ended up going with the Burnt Ends:
Rack them for having 90 Schilling.
Definitely some solid 'Q there! But, crinkle cut fries? Really? My wife got the sweet potato fries so I just bummed a few from her.
So long, KC! God knows when we'll be going right back to passing through again!
But the trip isn't quite over yet. We left our hotel on Monday morning to head back west. On the way we stopped in Hays, KS to visit the Sternberg Museum of Natural History. They have the famous dome that is right next to the highway. Just like with KC, we've driven by hundreds of times, but never stopped to see what is there. So this roadside attraction finally got us in.
Here are my boys underneath a monosaur in the main lobby:
The main theme of the place is dinosaurs and prehistoric animals:
They did have a sweet rattlesnake exhibit: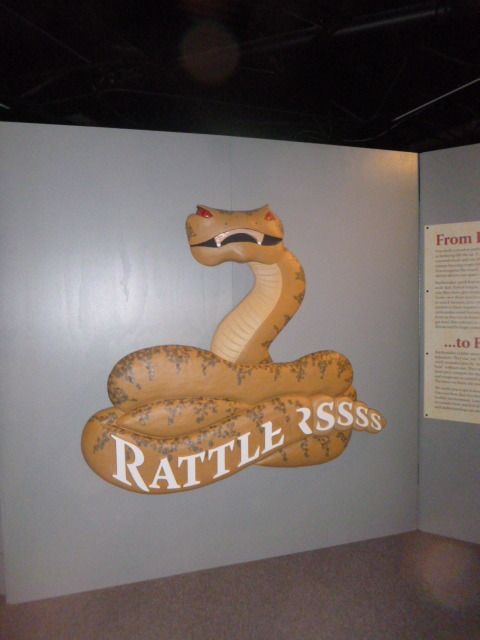 They have about 15 different kinds of rattlers on display. Most were from the Desert Southwest, Great Basin and Mexico. But this was the only rattler that is found in my neck of the woods and it's the Prairie Rattlesnake:
Little bit of info on this guy:
(funny, I could have sworn we had a breed of diamondback around here)
And then it was off to lunch at Qdoba and then we got back on I-70 to head home!
So there you have it! All in all it was a successful vacation and thankfully the weather held off for everything we did! In fact, we didn't even have any bad weather at all even at night! There was a storm that threatened after the Royals game, but it passed just to the south of us.
Thank you again to KCDave for all recommendations and spending time at the game with us!