LET THE GOOD TIMES ROLL!!!!!!!
The current best value on the TB $1 menu is the Beefy Fritos Burrito. This thing weighs about a pound. For $1 it's rare to find something this big anywhere. If bag weight is important, this is for you.
Taco Bell is pretty secretive about their new value menu plans.
Quote:
Taco Bell plans to add
20 new items
to its existing value menu throughout 2018, including previously limited-release test market items. While the chain didn't name which foods will make their way to the value menu, they did state that first on the list is the Stacker, a layered tortilla with ground beef, shredded cheese and nacho cheese sauce, available this month.
Here is the Stacker.
McDonald's finally came to their senses. DamnTheCowboys has mentioned numerous times the bullshit move they pulled by ditching their Value Menu, which was the only reason about 84% of their customers went there for. Of course, DTC was right.
Quote:
After scrapping the original Dollar Menu four years ago due to complaints of profits being squeezed from ingredient costs,
the company saw a negative effect on sales
as customers turned to other, more affordable fast-food options.
They aren't very forthcoming about what all is going to be included either.
Quote:
In an effort to compete in the ever-intensifying fast-food price war, McDonald's also announced
the resurrection of its iconic Dollar Menu
with the introduction of $1, $2 and $3 items in early January. McDonald's said
the menu will make its official comeback Jan. 4
and will feature a dozen new items, including a sausage burrito for a buck, a bacon McDouble for $2 and a Happy Meal for $3.
Here is the bullshit advertising photo of the Bacon McDouble.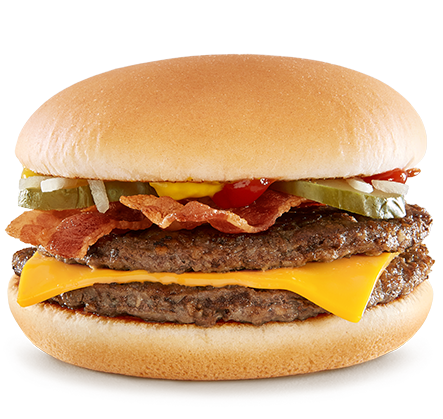 Here is what you can actually expect to get.