This happened at Ponak's, one of my favorite Tex Mex joints.
The same Ponak's that was featured in a small PET I did back in
May during the great Mexi food battle. Also, the same Ponak's that featured
my drunken self, sporting salmon colored shorts and a flowered shirt just
2 weeks ago.
http://fox4kc.com/2017/07/24/party-crashers-sought-at-mexican-restaurant-which-suffered-more-than-200k-in-damage/
Quote:
KANSAS CITY, Mo. -- The driver of a car trying to escape a locked gate at Ponak's did
up to $200,000 in damages to the popular Mexican restaurant on the Boulevard.
The crash happened July 1st, but Monday Kansas City Police released photos of the
suspected "party" crashers.

Updated pic of 2 suspects who hit @PonaksKitchen building July 1 and fled. If you recognize
them, call 816-474-TIPS pic.twitter.com/2b29CD2Sx8

— Kansas City Police (@kcpolice) July 24, 2017

When the two women returned to their car parked at Ponak's, they found a locked gate.
So they hatched an escape plan that may have involved trying to gun it over the railroad
tracks behind the restaurant. Instead they ended up backing into the Mexican restaurant's kitchen.

"The damage is more extensive than we imagined. We thought it would be $30,000 to $40,000
and it's turned out being a high estimate of up to $200,000 to $220,000 to fix this wall,"
Ponak's General Manager John Greer said.

"I think it's bad you hit a building and then you just run away and not own up to it, especially
because it's a business and people depend on this for their livelihood," Emily Tipton, a Ponak's customer, said.

After hearing what happened customers scoured through hundreds of online photos from an
event that was going on nearby that night to see if they could find a match to surveillance photos
police released last week of the women in the Ponak's parking lot.

They sent police a picture of two women who seemed to match the women on surveillance.

"I'm glad that I have a pretty loyal following and people that do care," Greer said. "We've been
here over 42 years and we are one of the mainstays on the Boulevard, so it makes me feel good and
hopefully something will come out of this, someone will recognize these two people on here."

Greer says video shows their car was also badly damaged in the rear-end collision. The whole ordeal left
customers to wonder when they found their car locked behind the gate, why they didn't just call for a ride?

"That would be a much more advisable method than the alternative that they took," Tom Stahl said.

Ponak's is open for business now, and management hopes they'll be able to stay open during the repairs.
Greer says they will have to wait on more reports from structural engineers and insurance adjusters.
the two skanks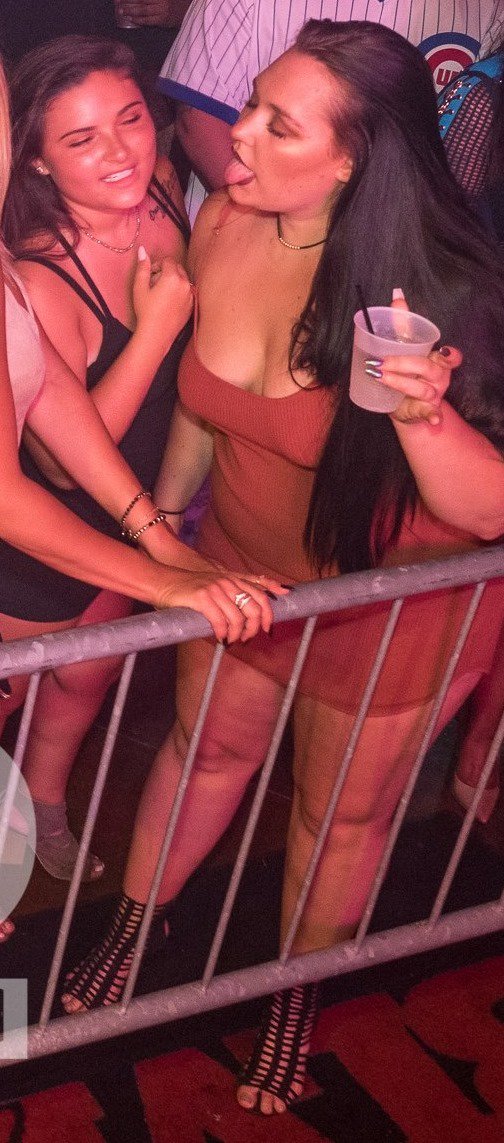 I'm calling bullshit to the 200k in damages though. Here is a pic of the board that covering
the damage. Unless that is the gateway to Ft Know, there isn't 200k worth of shit to replace.
damage to the wall
Hell, there isn't even enough damage to close the place down right now, and they seem
hopeful that they can remain open during repairs.
Also, you all already know, I am quite enamored by the chubby whore in the red dress.
Sure she has fat thighs, and her tits look like socks full of nickels. But she is tan, hot, and
DTF.
_________________
Eaton McHunt wrote:
You were a crotch sniffer at tot and doesn't look like much has changed over the years