...
PENSACOLA, FL
CNN is reporting that Pensacola Naval Air Station is currently on lockdown and Escambia County Sheriff's Office confirmed that authorities are working to "take down" an active shooter on base.
Jason Bortz, spokesman for NAS Pensacola, confirmed to the News Journal that an active shooter was reported sometime around 7 a.m. Friday. Both gates are closed and the base is on lockdown.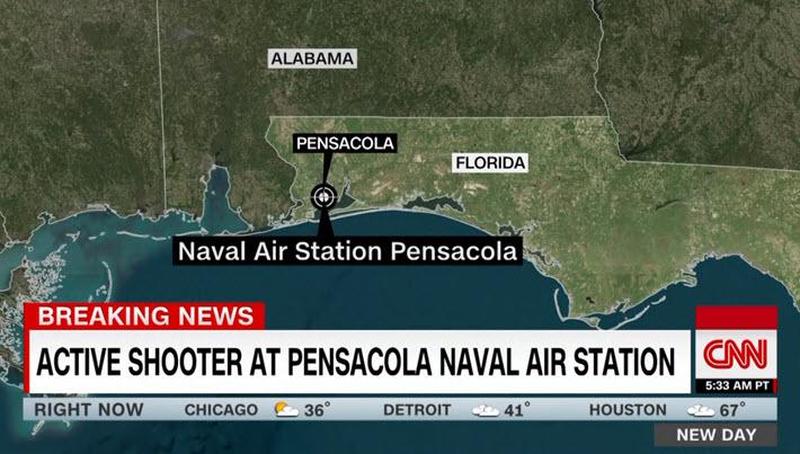 Update 2: CNBC reports that three people have now been confirmed dead and at least ten have been hospitalized.
It's still not clear what motivated the shooting.
Update 3: How's this for a twist?
The AP is reporting that the suspect in Friday's shooting at a Navy base in Pensacola, Fla. is a .....
wait for it...
....Saudi Arabian national
. He was attending aviation school in the US, which should raise eyebrows:
The last group of Saudi nationals who sought flight lessons in the US pulled off 9/11.
However, his name apparently wasn't released.
It's still unclear whether the shooting is terror-related,
authorities said
, but they are diligently investigating.
The shooter opened fire in a classroom building on Friday morning, which suggests he was on the base for a reason. The assailant managed to kill three others before he was killed by officers with the Escambia County Sheriff's Office, who arrived on the scene and fatally shot the suspect after exchanging gunfire
. FBI and ATF agents also responded to the scene.
At least eight others, including two police officers, were wounded in the cross-fire.
Update 4: The shooter has been identified as Mohammed Saeed Alshamrani, a member of the Saudi Air Force who was in the US for flight training (so on official government business).
**Merry Christmas !
/s/ Religion of Peace(s)